Read the reviews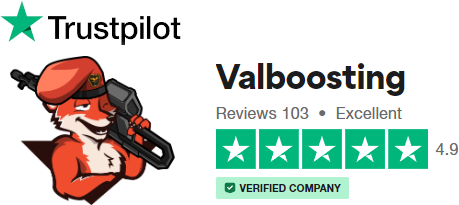 5 out of 5 stars (based on 21 reviews)
Wins legit
Needed 2 Wins for ascendant got a what i paid for
Definitely buying from here again
I've used a a lot of different of elo boost websites throughout this last year and I must say this is the best one by far! The booster was extremely kind and skilled .Definitely buying from here again!
Fast wins in Platinum
Done really fast and all wins
Net wins are a good option
I got 4 wins to get Diamond, booster left me Diamond 1 mid way to Diamond 2 insane
Never Hardstuck Again
Trust me, I know what it is like to be hardstuck in a ridiculous rank. After using this service, I was never hardstuck again and easily ranking up on my own and in my own skill group.
About Pay per win
Why should I pick "Pay per win" over other options
Pay per win boosting is the perfect option for those players looking for that extra push to the rank they want to get. Maybe you're so close to promotions that you can already feel your desired rank, or maybe you've gotten to promotions multiple times, but can't complete them successfully. Pay per wins is going to be your most cost-effective option.
What if you lose games
Our pay per win option is considered "net wins". This means that if, due to reasons out of our control our boosters lose a game, it will be compensated with a win before it counts as progress towards your order. Even if we lose any games, you won't have to pay for them! With this option you are guaranteed to end up with a higher win rate than before. How high is only determined by how many wins you purchase from us! Order from us today and skyrocket your account's MMR and win rates instantly!
5 Years of Experience

24/7 Live Chat

Money-back Insurance

Players from your Country